On this day in history in 1165, King Philippe II of France was born in Gonesse. The son of King Louis VII and his third wife, Adela of Champagne, he was originally nicknamed Dieudonné ("God-given") because his father was 45 years old, and many feared that Louis would die without producing a male heir to the Capetian throne. That King Louis VII finally sired a son at such an advanced age was considered a miracle and a blessing from God.
On the day after his birth, Philippe was baptized in the castle chapel of St-Michel-de-la-Place. The infant's great-grandfather, King Philippe I, had been the first monarch in Western Europe to bear this rare, even exotic, name. Known as Philippe the Amorous, Philippe I was King of the Franks from 1060 until his murder in 1108. His unusual name had been introduced into the Capetian family by Anne of Kiev (also known by the names: Anna Yaroslavna, Anna of Rus, and Agnes) who was the Russian-born mother of King Philippe I.
Prior to the birth of his son, Louis VII had fathered four daughters with his first two wives. His first wife was Eleanor of Aquitaine, and their daughter were: Marie (1145 – 1198, who married Henry I, Count of Champagne) and Alix (1151 – ca. 1197, who married Theobald V Count of Blois).
When Louis' first marriage failed to produce any sons, he arranged to annul it. This left him free to marry Constance of Castile. This marriage also produced two daughters: Margaret (1158 – 1197) and Alys (1160 – ca. 1220). Sadly, the birth of Alys resulted in Constance's death.
Increasingly desperate for a son, Louis married Adela on the 18th of October 1160, a few weeks after the death of his previous wife, Constance, in childbirth. Many considered this too soon after Constance's death.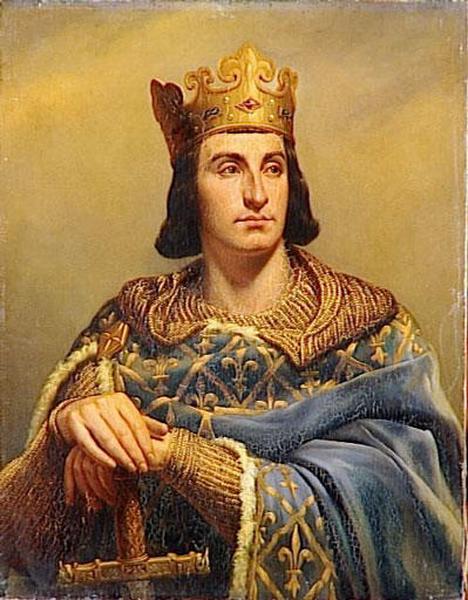 Frustrating the hopes of the king and his nobles, Louis' third marriage didn't produce any issue for the next five years. Concern that Louis might die without a male heir grew and intensified as Louis approached his mid-forties.
The lack of a son threatened the future of France and the Capetian dynasty, but by God's grace, the long-awaited Philippe finally arrived to great rejoicing. According to contemporary sources, Adela of Champagne wept with joy when she learned that her child was the long-awaited, much anticipated male heir to the Capetian throne. Louis VII received word that his wife had given birth to a son while he was attending Matins, although the birth had happened at eleven o'clock the previous evening. The happy parents were sure that it was a good omen for the country.
Adela would eventually give birth to a second child, another daughter, Agnes (1171 – ca. 1204).
In his lifetime, Philippe would be given the nickname "Augustus" by the chronicler Rigord for having extended the dominion of France so remarkably. Philippe II was truly a gift to the Kingdom of France, for his long reign (1180-1223) would see the power of the Capetian throne spread across the region that we know today as France. The first king to call himself "King of France" was responsible for extending his kingdom to the borders which are familiar to us today.
---
Source:  Bradbury, Jim. Philip Augustus: King of France, 1180-1223. London, Longman, 1998.
All images are in the public domain.
Text © 2017 Olivia Longueville 
Posted on