The Timeline of Angevin World
All images are in the public domain.
1066 - 1099 The Norman Invasion and the establishment of Norman rule in England
1100 - 1135 Triumph and Tragedy: The Reign of Henry I
1135 - 1153: The Anarchy, a crisis of succession
1154 - 1189: The Reign of Henry II
Henry II is the first Angevin king of England and the founder of the Plantagenet dynasty (1154-1485)
1189 - 1199 The Reign of Richard the Lionheart
3 September 1189
Richard
, also known as "The Lionheart," is crowned King of England.  He immediately makes plans to lead the
Third Crusade
.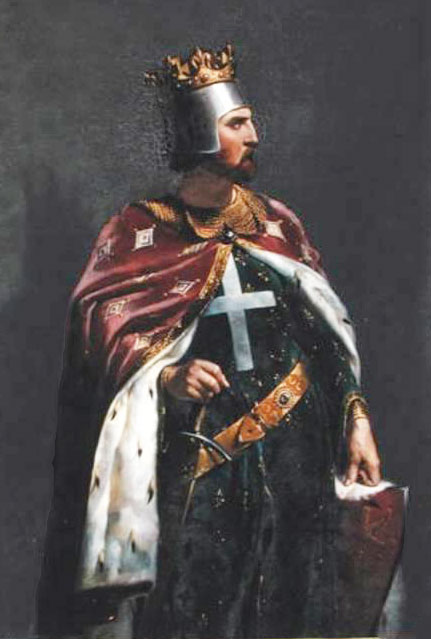 Summer 1190
Richard and Philippe begin their journey to the Holy Land for the
Third Crusade
.  They arrive in Sicily in September and spend the winter of 1191 in Messina.
12 May 1191
King Richard marries
Berengaria of Navarre
, a kingdom on the southern border of Aquitaine.  The
marriage
took place on the island of Cyprus, and Berengaria accompanied Richard to the Holy Land.
Richard's marriage to Berengaria further strained his tenuous relationship with King Philippe, as Richard had been betrothed to Philippe's half-sister.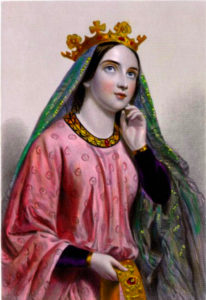 8 June 1191
King Richard arrives in Acre.  King Philippe had arrived on May 20th, but he was unsuccessful in his efforts to end the
Siege of Acre
.
King Philippe becomes very ill with dysentery.
July 1191
July 12:  the
Siege of Acre
 ends with a victory for the Crusaders.
July 31:  King Philippe leaves the Holy Land and returns to France.  Richard worries that Philippe may try to take control of disputed lands.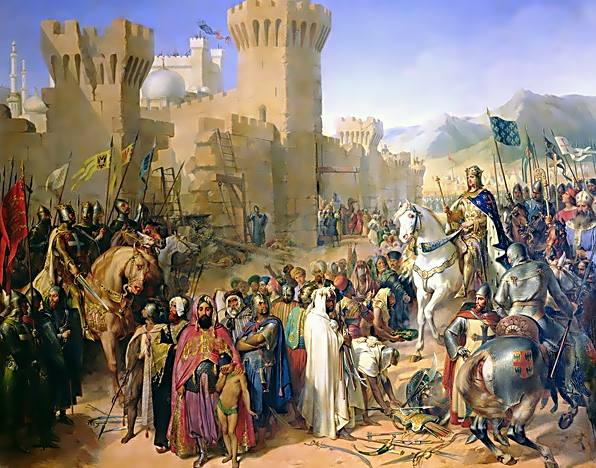 20 August 1191
The
Massacre
of the Saracen prisoners, ordered by King Richard.
25 August 1191
Richard begins his march to Jerusalem.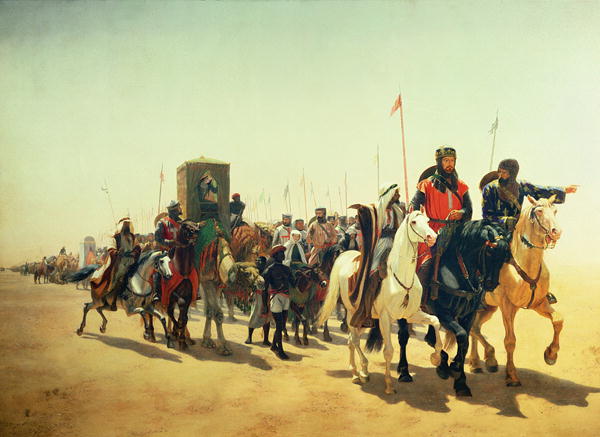 7 September 1191
The
Battle of Arsuf
was an important victory for Richard and his Crusaders.
They defeated Saladin's forces and were able to continue their march south towards Jerusalem.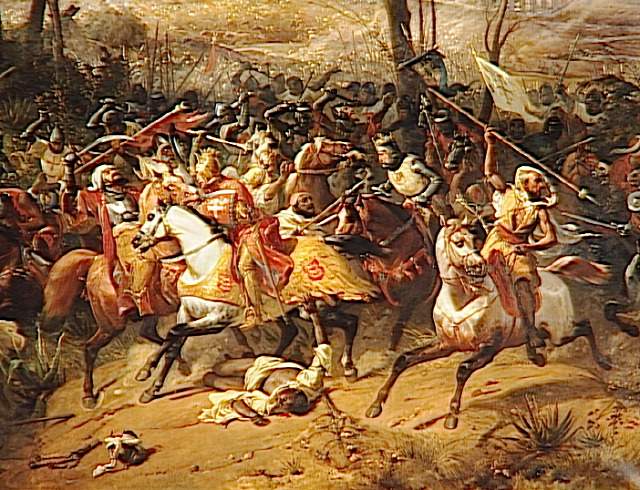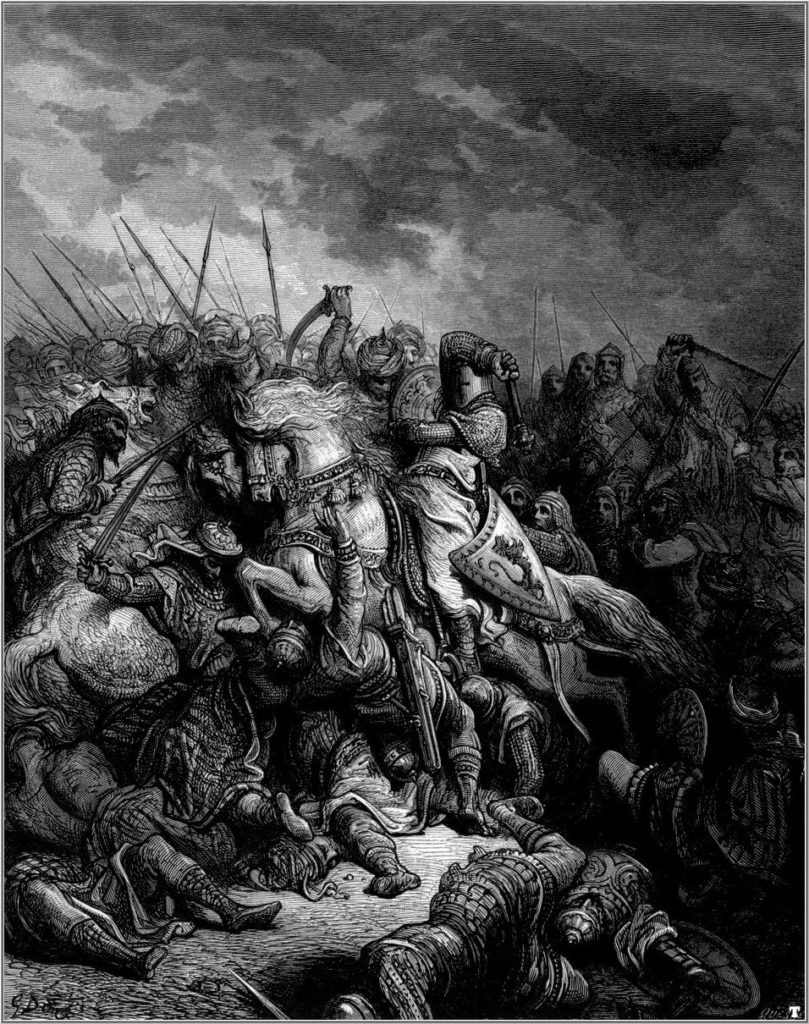 20 February 1192
While rebuilding the city of
Ascalon
, Richard returns to Acre on February 20th to settle disputes between the
Genoans
, who are allied with France, and the
Pisans
, who are allied with Richard.
These disputes between the Pisans and Genoans are symptomatic of the larger tensions building between Richard's men and the forces loyal to Philippe.
July - August 1192
Richard is making plans to leave the Holy Land.  He has determined that, although Jerusalem could be taken, it could not be held.
In July, Saladin attacks Jaffa, and the Battle of Jaffa reveals that the two sides are exhausted and ready to end the war.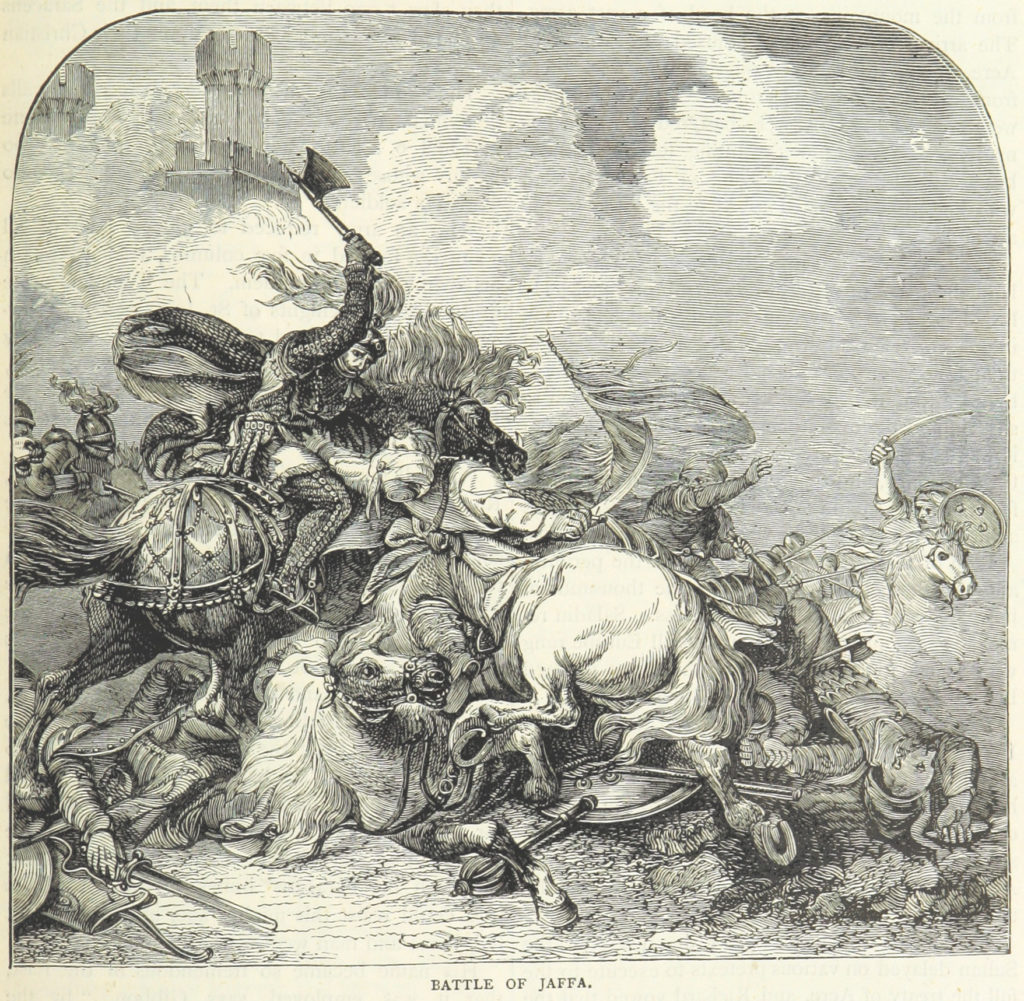 9 October 1192
King Richard leaves the Holy Land and begins his journey home.
October, November, December 1192
Richard's Journey from Acre to Vienna
21 December 1192
Near Vienna, Richard is
captured and taken hostage
by Duke Leopold of Austria. One of the many legends surrounding Richard's capture is that he tried to disguise himself as a cook and was found by Leopold's soldiers in the kitchen turning a spit, as depicted in this illustration dating c. 1470
22 March 1193
Duke Leopold transfers custody of Richard to Henry VI, the Holy Roman Emperor.
January 1194
King Philippe and Prince John attempt to bribe Emperor Henry VI to either keep Richard captive until the end of September or transfer custody of Richard to King Philippe.
4 February 1194
Eleanor delivers the ransom to the Holy Roman Emperor, Henry VI, and Richard is released from captivity.
13 March 1194
King Richard, accompanied by Eleanor, returns to England.
25-28 March 1194
King Richard lays siege to Nottingham Castle and defeats the last of John's supporters.
29 March 1194
King Richard visits Sherwood Forest for the first and only time. The chroniclers record that it "pleased him greatly." There are many legends about Richard meeting Robin Hood and his Merry Men on this day.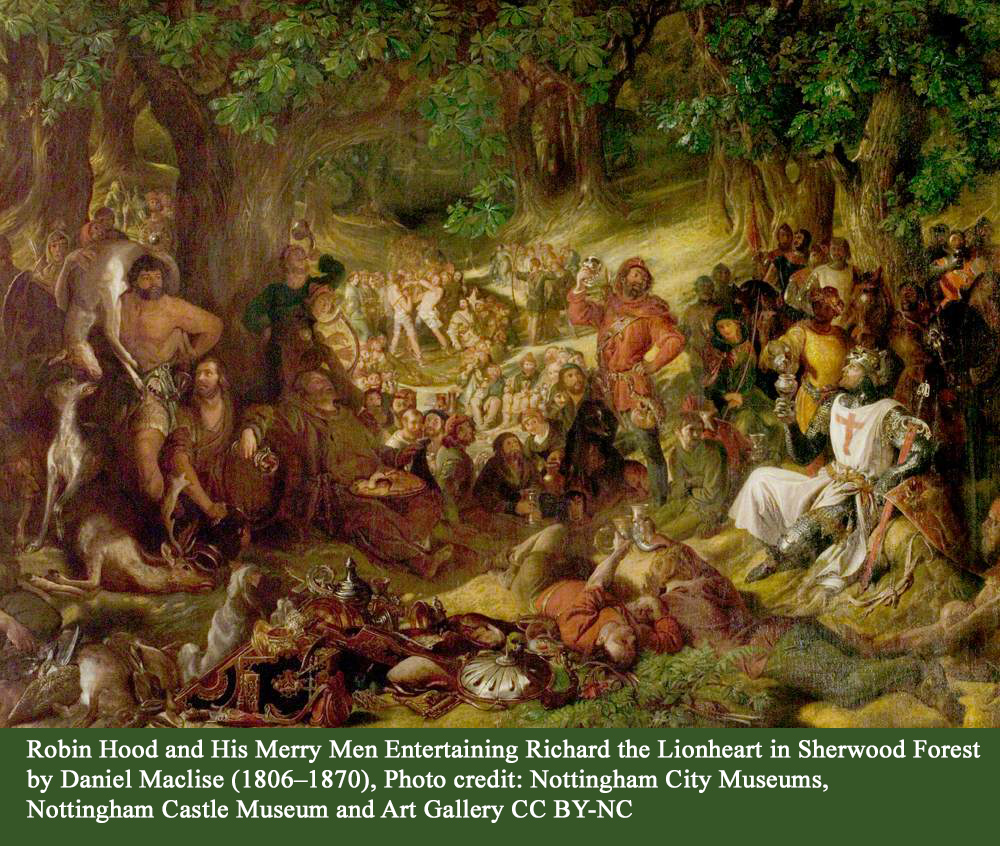 17 April 1194
Easter Sunday, Winchester Cathedral: Richard's crown-wearing ceremony. This was not a second coronation, but it was an affirmation of Richard as King of England after his long absence.
12 May 1194
Richard and Eleanor sail for Barfleur with a fleet of 100 heavily laden great ships. Neither Richard nor Eleanor will ever set foot in England again. At this time, John is in Evreux, and he will not return to England until after Richard's death.
19 May 1194
Although Prince John had conspired with King Philippe to keep him imprisoned, King Richard forgave John at the behest of his mother, Eleanor.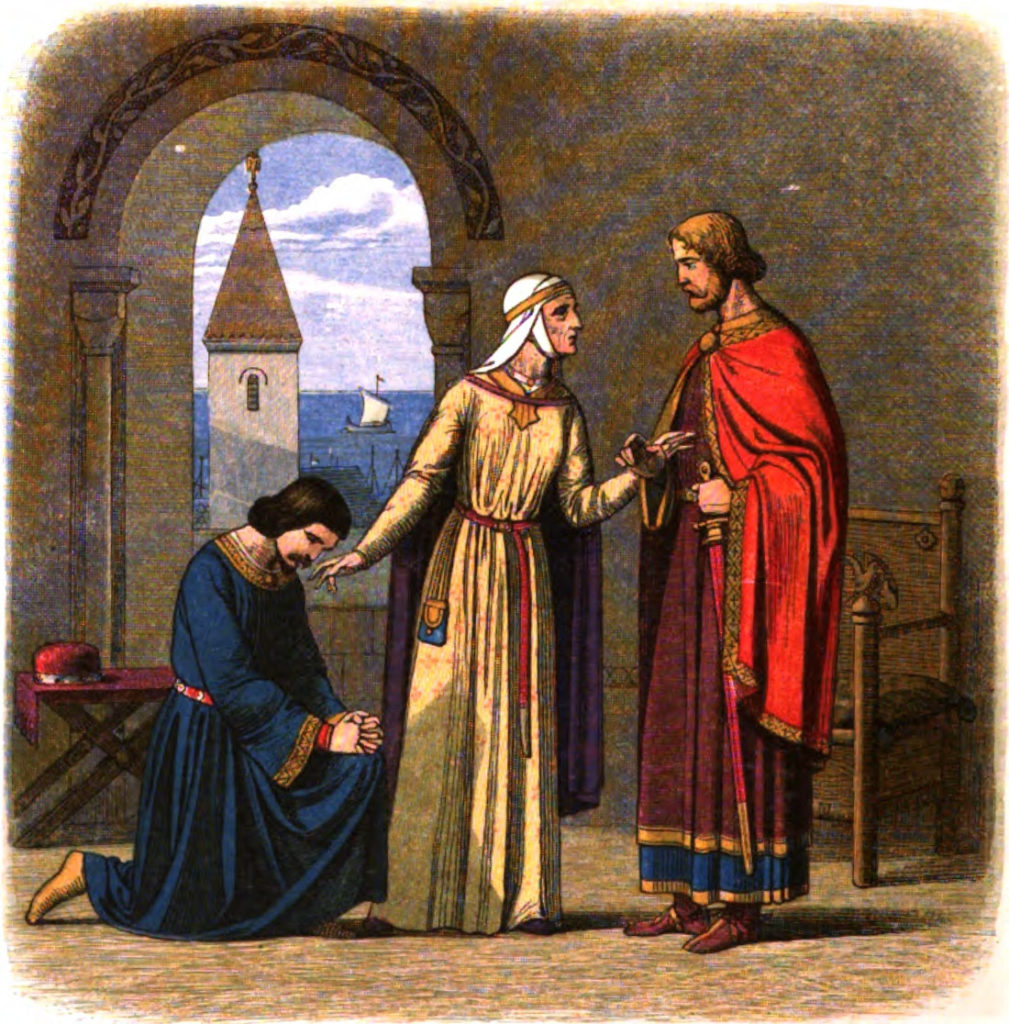 8 September 1197
John is named Richard's heir, although Richard was still hoping to father a child with Queen Berengaria.
6 April 1199
After his return from captivity, Richard spent the
remainder of his life
in Normandy, battling Philippe and building fortifications along the Normandy border, such as
Chateau Gaillard
.
On March 25, he was wounded in the shoulder by a crossbow bolt, believed to have been accidently fired at the king.  The wound became gangrenous, and Richard died on April 6, in his mother's arms.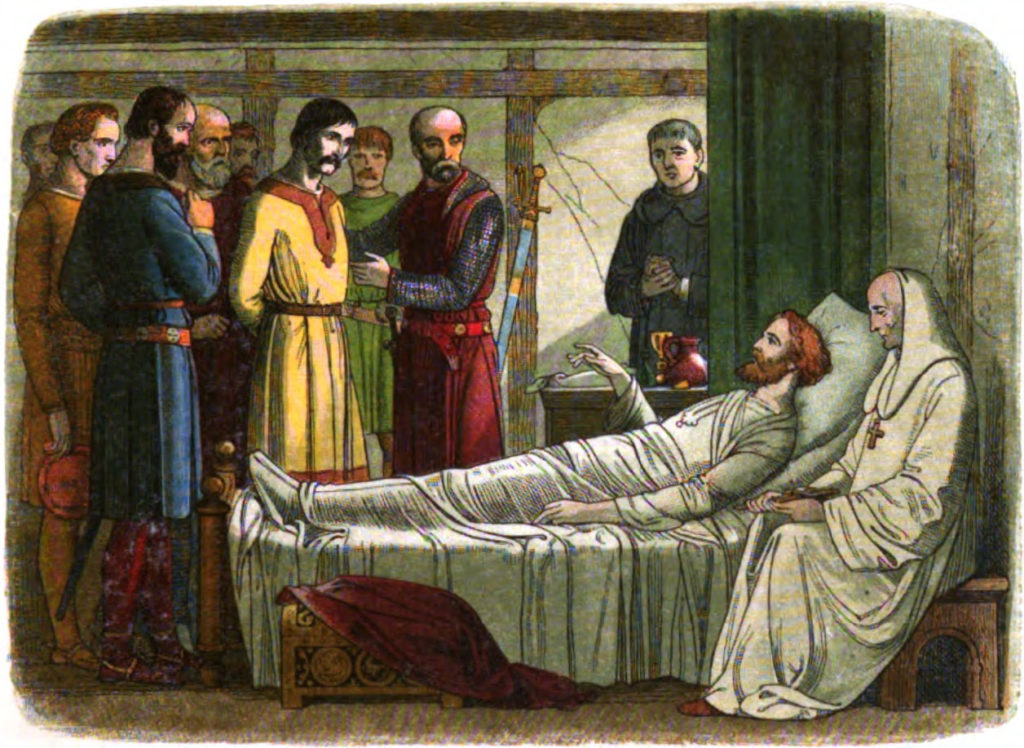 1199 - 1216 The Reign of King John