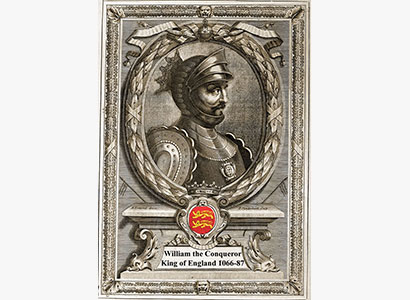 William the Conqueror
William's descendants battled fiercely for control of both the throne of England and the coveted Duchy of Normandy.  Although one of William's sons became king after his death in 1087, there would not be another son directly inheriting the English throne from his father for the next 102 years.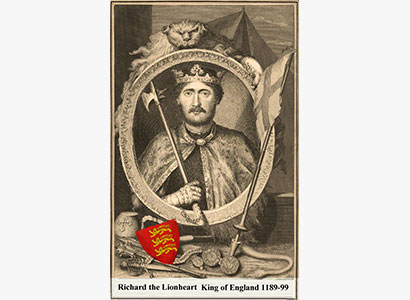 Richard the Lionheart
Inheriting the throne following bitter struggles with his father, Henry II, this larger than life king remains one of England's most famous monarchs, even though he spent little time in England during his ten year reign.  Centuries later, his absentee rule and his struggles with a scheming younger brother would become linked to the legend of Robin Hood and his merry men.
Why learn about the Angevins? Why study the 12th century?
Recently, there has been much interest in both the Tudor era, spanning the late 15th through the 16th centuries, and early Britain, those centuries between the fall of Rome and the invasion of the Normans in 1066.  Both of these time periods are exciting and well worth studying for they provide great historical drama.
Our goal in creating this website is to generate interest in an equally fascinating and dramatic period of time.  We will explore English and French history beginning with the Norman invasion of 1066, and concluding with the fall of the Angevin Empire in the early 13th century.  Although our focus will be on English and French history, we will also welcome articles on other people and events which are significant to this general time period.
Come join us on our journey exploring tangled family relationships, dysfunctional royal families, and the drama and intrigue that naturally blossoms from such fertile story telling ground.
You will find it both entertaining and educational.
THE ROBIN HOOD LEGEND
Robin Hood is famous for his strong defense of the poor and his fierce fight for freedom and justice.  From early medieval ballads to tales written in the modern era, stories about Robin Hood are full of adventure and Robin's heroism as he leads his band of Merry Men in Sherwood Forest.
What was the real story of Robin Hood?  Whether you believe him to be man or myth, the truth is obscured by the mists of time.  On this website, you can begin your journey into the legend of Robin Hood and the Merry Men.
Olivia Longueville and J.C. Plummer are excited to bring you the Robin Hood trilogy – a thrilling odyssey of adventure, mystery, and suspense.  The authors hope that you will find our books and website interesting and enjoyable.
Connect now!
GET IN TOUCH WITH US
Olivia.Longueville@angevinworld.com
J.C.Plummer@angevinworld.com