A glossary is included at the end of each book in the Robin Hood Trilogy.
We hope that readers will find this helpful and informative.
We cherish all our readers, and we recognize that some of our readers are not native speakers of English.  Because it can be difficult to find definitions and translations for older words, we hope the glossary will be a useful tool.
Below is a copy of the glossary found in the books, enhanced with a few illustrations.
A
Achilles' heel
From Greek mythology, a small, but fatal, weakness; a vulnerability in an otherwise invincible opponent which will lead to the opponent's downfall. It can refer to any type of weakness – not just a physical vulnerability.
Angevin
Originating from or belonging to the County of Anjou in France. Henry II's father had been Count of Anjou, and Henry ruled both England and vast continental territories, including Anjou. For this reason, Henry II, Richard the Lionheart, and John are referred to as the Angevin Kings of England, and their holdings are called the Angevin Empire. John lost control of these continental lands; thus, he is considered the last Angevin King of England. These three rulers are also referred to as the first Plantagenet kings.
antechamber
A chamber that serves as a waiting room and entrance to a larger room.
apothecary
A person with specialized knowledge of herbs, spices, and medicines. An apothecary would also be knowledgeable about poisons.
B
bailey
The courtyard of a castle. It's an open area enclosed by the castle wall.
barbican
An outer defensive area that protects the main gate of a castle.
berm
The area between the castle wall and the moat.
bliaut
A long outer tunic worn by both men and women. The bliaut had a full skirt, a fitted bodice, and sleeves which were fitted along the upper arm while flaring between the elbow and wrist. The lower part of the sleeve sometimes flared into a trumpet shape. The length of the men's version varied, but the women's bliaut would have been full-length. Women's tunics were also called gowns or kirtles.
bodkin
A long, narrow arrowhead designed to pierce chainmail.
bow (bōh)
A weapon that propels projectiles (arrows).
bow (rhymes with how)
1) Bending at the waist towards another person as a formal greeting. Typically performed between men of equal rank.
2) The front of a ship.
brace
In addition to the usual architectural meanings, a brace also refers to a pair. The phrase, "a brace of coneys," refers to two wild rabbits.
bracer
A bracer is wrapped around the forearm of an archer in order to protect the arm from the bowstring. Bracers were made from leather or horn.
braies
An undergarment that was made of linen and worn by men. Although underwear as we know it today was not worn, these would have been similar in that they were worn under other clothing.
brocade
A heavy fabric woven with an elaborate, raised design or pattern. During this time period, brocade fabric was the height of luxury and very expensive.
brooch
A clasp or ornament with a hinged pin and a catch to secure the point of the pin on the back. In the 12th century, there were no buttons or zippers, so a brooch was an indispensable piece of jewelry for securing clothing, especially cloaks. Elaborate, jeweled brooches were a sign of wealth and status. Brooches were popular gifts.
buss
A large, fully decked ship with two masts. These ships were capable of carrying nearly 1,000 men, 75 crewmen, horses, and equipment (such as disassembled siege engines).
by right of wife (jure uxoris)
During this time, a man could assume a title of nobility when he married a woman who held the title in her own right. He would also become the legal possessor of her lands.
C
camp ball
A popular game from the Middle Ages where opposing teams attempted to move a ball into a goal while fighting off their opponents. Also called football, although it is not the same as today's sports by that name.
Carentune
A town east of Nottingham which was mentioned in the Domesday Book of 1086. Today, the town is a suburb of Nottingham, and it is called Carlton.
castellan
A keeper or governor of a castle.
causeway
A road or path that is raised in order to cross a moat, marshland, sand, or similar impediments to travel.
chausses
Leggings or stockings. They could be made of either cloth or chainmail.
Circe
In Greek mythology, Circe was a witch who turned men into pigs by giving them a drink from her cup of enchantment. With the help of Hermes, Odysseus was able to defeat her magic and force her to restore his men to human form.
clandestine marriages
Before 1215, a couple could declare their intention to marry in front of witnesses, and if these vows were followed by consummation, canon law considered the couple to be legally wed.
coney
An older term referring to wild rabbits or hares.
courtesan
A woman who seeks financial support and security from noblemen and men of wealth in return for companionship and sexual favors.
courtier
An attendant at court, especially a person who spends a great deal of time attending the court of a king or other royal personage.
cross guard
For swords and daggers, this is positioned crosswise to the blade and between the grip and the blade. It protects the user's hand. See also: hilt, pommel, and grip.
curtain
Another name for the castle's outer wall surrounding the bailey.
curtsy
A formal gesture of greeting and respect made by women and girls consisting of bending the knees to lower the body while slightly bowing the head.
D
destrier
A large, strong war horse. Only wealthy lords and knights could afford them.
djinn / djinni (jin / jin-ee)
Also called jinn and genies, djinn are supernatural creatures. References to djinn can be found in both pre-Islamic and Islamic mythology and theology. They can influence men to either good or evil. Sometimes they are described as "mischievous spirits," and that is the definition used in the Robin Hood trilogy. Djinn is the plural form of the word, and djinni is singular.
dowager
A widow whose title was obtained from her deceased husband. Adding this modifier to a title distinguishes the widow from the wife of the man who currently holds the title.
dowry
Money or land given by the bride's family at the time of her marriage. If the girl entered a convent instead of marrying, the dowry would be given to the convent.
drawbridge
A bridge that can be raised to prevent access or lowered to allow passage of vehicles or pedestrians.
E
empyreal
Heavenly; pertaining to the highest heaven.
Ernehale
A town northeast of Nottingham which was mentioned in the Domesday Book of 1086. Today, the town is a suburb of Nottingham, and it is called Arnold.
ewer
A large earthenware jug or pitcher with a wide mouth.
F
fallow field
A field that has been left unseeded for one or more growing seasons in order to restore its fertility.
fealty
Loyalty that a vassal owes to his lord. This often refers to the actual loyalty oath, as in "an oath of fealty."
Feast of St. Andrew
This was celebrated on November 30th. It was considered a major feast that was observed as a holiday and required fasting on the previous day.
Feast of St. John the Baptist
Also known as Midsummer; it was celebrated on June 24th. It was considered a major feast that was observed as a holiday and required fasting on the previous day.
Feast of St. Mary Magdalene
This was celebrated on July 22nd. It was considered a major feast that was observed as a holiday and required fasting on the previous day.
Feudal System
This land-based economic and social system determined the rights and obligations of men. See also: fief, vassal, lord, liege, homage, and fealty.
fief
Land granted to a vassal for his use. In return, the vassal provided loyalty and service to the owner of the land. A fief could also be a payment instead of land.
fiefdom
Land owned by a noble or knight.
field
In heraldry, the background color of a coat of arms is called the field.
fleur-de-lis
In heraldry, a stylized representation of an iris, consisting of three petals. This heraldry represents the royal family of France.
forthwith
An old word that actually dates to the 13th century. It means immediately, at once, without delay.
fortnight
A period of two weeks, or fourteen days.
G
galley
A type of ship which used rowing as its primary method of propulsion. These ships also had sails. With two methods of propulsion, galleys were versatile and popular for both warfare and trade. Early galleys can be traced as far back as the 8th century BC, and they remained in use throughout the Middle Ages.
gatehouse
A complex system of gates and towers which protected the entrance to a castle. See also: causeway, drawbridge, and portcullis.
genuflect
Briefly dropping to the right knee before rising. This was a formal greeting performed when in the presence of a man who is of superior rank. It is also performed towards the altar when in church.
great hall
Known as the heart of the living space in a castle, it was the location of feasts, and it was often the area where business was conducted. In earlier times, it was also where people slept.
grip
The part of sword or dagger that is gripped by the hand. See also: hilt, cross guard, and pommel.
H
Hades
1) In Greek mythology, the god of the underworld where the dead lived.
2) A name for hell. This use is not capitalized.
hauberk
A chainmail shirt or tunic that protected the upper body, especially the neck and chest.
heathen
1) A person who does not worship the triune God of the Bible.
2) An irreligious, uncultured, or uncivilized person.
high table
An elevated table in the great hall where the lord, his family, and important guests were seated during feasts.
hilt
The handle of a sword or dagger. It is comprised of the cross guard, grip, and pommel (see the entries for these words for additional information). Hilt is often used interchangeably with grip.
homage
A declaration of loyalty from one man to another. The man declaring his loyalty would typically receive a fief in return. The first step in becoming a vassal is to pay homage to the lord.
homily
A sermon, usually on a Biblical topic.
Hospitaller
See: Knight Hospitaller.
humors
The fluids in the body. In ancient Greece, Rome, and the medieval period, humors were thought to be closely tied to health. Balancing your humors was vital to good health.
I, J, K
infidel
For Christians, a person who is not a Christian. For Muslims, a person who is not a Muslim.
interdict
In the Roman Catholic Church, a decree by the Pope to exclude either a specific person or a group of people with something in common (for example, their location) from certain sacraments and other benefits, although not from communion.
jousting
A tournament competition where two mounted knights rode towards each other with the goal of unhorsing their opponent using blunted lances. This contest was conducted in a highly formalized manner, but it was still very dangerous.
justiciar
In medieval England, from the reign of William the Conqueror to Henry III, a justiciar was an important political and judicial officer who presided over the king's courts and performed consequential functions during the king's absence.
keep
The living area inside of a castle complex. It was a heavily guarded and fortified building or tower. The great hall would be located in the keep.
Knight Hospitaller
A member of the "Order of Knights of the Hospital of Saint John of Jerusalem." A religious charitable organization founded circa 1096 to provide aid to Christian pilgrims traveling in the Holy Land. In the last half of the 12th century, they became more militaristic. Plural is Knights Hospitaller. Also spelled Hospitaler.


Crusader and Knight Templar by Roque Gameiro, 1917
Knight Templar
A member of the "Poor Fellow-Soldiers of Christ and of the Temple of Solomon" (simplified to "The Order of the Temple of Solomon" in the Robin Hood trilogy). A religious military order founded by Crusaders in Jerusalem around 1118 to defend the Holy Sepulcher and Christian pilgrims. Plural is Knights Templar.
L
Lent
A Christian season of fasting and penitence in preparation for Easter, beginning on Ash Wednesday and lasting 40 weekdays to Easter, observed annually.
leprosy
A devastating illness that destroys skin, flesh, and bones. During the Middle Ages, it was considered divine judgment for a sinful life.
liege lord
A feudal lord who is entitled to allegiance and service from his vassals.
lord
A landholder, typically a noble or the king, who granted fiefs (the use of land) to vassals (who were often knights, or even other nobles).
lute
A stringed musical instrument that is plucked to produce sound. It has a long, fretted neck and a hollow, pear-shaped body.
M
Maman
French word that translates to momma, mommy, mum, and similar informal versions of mother.
mantle
A long, loose cloak or cape usually worn over other clothing, similar in function to a modern overcoat.
Mass
A Catholic Church service which includes Holy Communion.
mêlée
A fight or brawl that is noisy, riotous, and disorganized.
men-at-arms
A general term for trained soldiers. Typically, they were trained like knights, but not all men-at-arms were knights.
Mère
French word that translates to mother. More formal than Maman.
Michaelmas
The Feast of St. Michael was celebrated on September 29th. It also marked the end of the harvest season. It was considered a major feast that was observed as a holiday and required fasting on the previous day.
Midsummer
Also known as the Feast of St. John the Baptist; it was celebrated on June 24th. It was considered a major feast that was observed as a holiday and required fasting on the previous day.
millstone
A heavy disc-shaped stone. Grain was placed between two millstones, and they were rotated against one another in order to grind the grain into flour.
minstrel
An entertainer. Minstrels were primarily performers. Although some wrote their own songs, they often sang songs composed by others, notably the troubadours. Minstrels also performed acrobatics, juggled, told jokes, and recited poems.
Moor
The name given to the Muslim people who invaded Spain in the 8th century. The Moors were from northwest Africa, and they were of mixed Arab and Berber heritage.
Morpheus
In Greek mythology, Morpheus was the god of sleep and dreams. The phrase, "in the arms of Morpheus" simply means that the person is asleep. Today, the narcotic morphine can trace its name to Morpheus.
motte
An earthen mound, usually artificial. These mounds were often created in order to build a defensive structure, such as a castle, on higher ground for strategic purposes.
Mount Olympus
In Greek mythology, the location where the gods lived.
N, O
Nine Men's Morris
A popular strategy board game for two players that dates back to Ancient Rome, perhaps even earlier.
obeisance
Giving proper respect and deference to someone of superior rank. Typically this would require kneeling (see genuflect), bowing, or curtsying.
Odysseus
In Greek mythology, Odysseus was the King of Ithaca, who was called by his High King, Agamemnon, to wage war against Troy. Known as "Odysseus the Resourceful," it was his strategy of the Trojan horse that resulted in the victory of the Greeks over Troy. Odysseus was anxious to return to his wife, Penelope, but his voyage home was fraught with fantastical dangers and adventures. His story is known as the Odyssey. He was gone from Ithaca for twenty years, and many believed that he was dead. He returned in disguise and defeated the men who were pursuing his wife by winning an archery contest where he demonstrated his amazing skills with a bow that only he could string.
Orpheus
In Greek mythology, Orpheus was a talented musician and poet. While still living, he descended to the underworld in hopes of rescuing his dead wife, Eurydice, from Hades. He was given permission to lead her back to earth, as long as he did not turn around to look at her. At the last moment he looked, and she was lost to him forever.
Outremer
A French word meaning, "overseas." Used as a name for the Crusader States, especially the Kingdom of Jerusalem, after the First Crusade.
P
page
A boy in training to become a knight. He would progress from page to squire to knight.
palfrey
A horse used for everyday riding. These smaller horses were often ridden by women.
paper
A word originating from the Latin papyrus. It was composed of varying fibers which had been pounded into a pulp and then spread out and dried flat. It was not long-lasting, so it was used for documents without much importance.
parchment
Animal skin that has been processed to use as a writing surface. It was typically sheepskin, and it was also used to cover windows before the widespread use of glass. It was reserved for important or official documents. Less expensive forms of paper were also available. See: paper.
passant
In heraldry, a beast walking, with the right foreleg raised.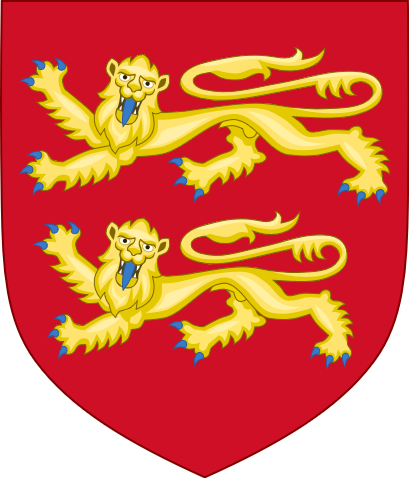 Penelope
In Greek mythology, the wife of Odysseus. She faithfully waited for her husband and refused to remarry when everyone else was convinced that Odysseus had died and would not return. Pursued relentlessly by a band of unwanted suitors, she delayed any decision to remarry by weaving a shroud for her father-in-law by day, only to unravel her work at night. When her ruse was discovered, she devised an archery contest that only Odysseus could win. He returned just before the contest and won it before slaying the unwanted suitors.
physician
A university educated doctor.
pilgrimage
A religious journey to a holy place.
Plantagenet
This became the family name of Geoffrey V, Count of Anjou. Reputedly this name was given to him due to his habit of wearing a sprig of yellow broom blossoms (in Latin: planta genista) in his hair. Geoffrey's descendants would rule England from 1154 to 1485 as the Plantagenet dynasty.
Poitevin
Originating from or belonging to the County of Poitou in France.
pommel
1) A knob attached to the end of the grip in swords and daggers. It provided a counter balance to the blade, and it helped the user maintain a better hold on the weapon because it prevented the hand from sliding off the grip. See also: hilt, cross guard, and grip.
2) A knob at the front of a saddle.
portcullis
A heavy gate that was raised and lowered to control entry into the grounds of a castle. It was part of the gatehouse. A portcullis was composed of crossed bars, forming a grate or grille. The bottom edge consisted of spikes.
postern gate
A small door hidden in the castle wall that allowed soldiers to enter and exit the castle grounds without using the main gate. This was useful during sieges. Typically, a postern gate was only large enough to allow the passage of one man at a time.
Pyrrhic victory
A struggle that ends in the ruination of the victor. The cost of victory is so devastating that it is tantamount to defeat, and it outweighs any benefit that accrues to the victor. The phrase originated with stories of King Pyrrhus of Epirus and the battles of The Pyrrhic War (280–275 BC).
Q, R
rampant
In heraldry, a beast standing on its hind legs, the right foreleg raised above the left.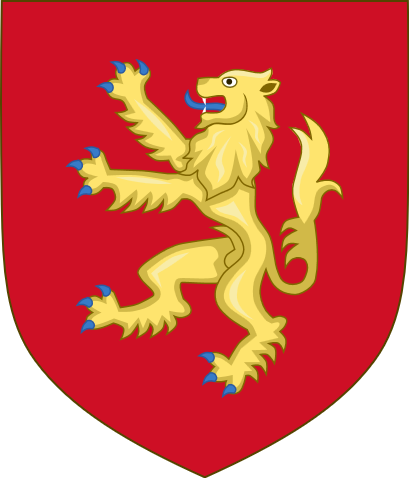 relics
Sacred objects which were associated with a saint or holy person. It was believed that relics could work miracles. Relics included objects that the saint might have owned or touched. Physical remains of a saint, including blood and bones, were also considered relics.
S
Saint George and the Dragon
This legend was very popular during the 12th century. A dragon had nested in a village, and he would not let the people draw water from a nearby spring unless they gave him one person to eat each day. The victims were chosen using a lottery, and one day the town's princess drew the unlucky lot. Saint George was traveling through the town and heard about the princess' plight. He slew the dragon, saving her and all the people of the town.
Saracen
During this time period, Muslims, particularly Arab Muslims, were called Saracens.
scabbard
A rigid sheath made of wood, metal, or hardened leather. It is used to enclose and carry the blade of sword or dagger, both to protect the wearer and to keep the blade clean and sound.
scythe
A farming tool with a sharp, curved blade affixed to a long wooden handle. It was used to cut grass for hay.
sennight
A period of one week, or seven days.
shire
A county in England, typically combined with the name of the shire to form a single word: Nottinghamshire.
Shrove Tuesday
An important movable feast that always falls on the day before Ash Wednesday (which is the first day of Lent). Although repentance of sins is considered an integral part of Shrove Tuesday observations, it was frequently seen as the last opportunity to engage in merriment before the start of the somber Lenten season. In the Middle Ages, feasting and games were popular activities on Shrove Tuesday.
sickle
A farming tool with a sharp, curved blade affixed to a short wooden handle. It was used for cutting grain, corn, grass, and similar crops.
sire
The form of direct address used for royalty prior to the 16th century. "Your grace" was also used for royalty and high-ranking clergy.
solar
Inside a castle tower, this room (or suite of rooms) was the primary living area for a lord and his family, and it provided them with some measure of privacy.
squire
A boy in training to be a knight. He would progress from page to squire to knight.
staff
A traditional pole-shaped weapon popular in England during the Middle Ages. It was made of hardwood and was typically 6 to 9 feet (1.8 to 2.7 m) long. It was also called a quarterstaff or a short staff.
stern
The back end of a ship.
Styx
In Greek mythology, a river in the underworld over which the souls of the dead were ferried by Charon.
surcoat
This sleeveless cloth tunic was worn over chainmail. Heraldry symbols were often sewn onto the chest of the surcoat. For example, Crusaders often wore white surcoats with a red cross emblazoned on the chest.
T
tack
Saddles, stirrups, bridles, halters, reins, bits, harnesses, and so forth. The equipment and accessories needed for horseback riding and for hitching horses to wagons and carts.
tallage
A tax that a lord could demand at any time without giving a reason.
Templar
See: Knight Templar.
tournament
A sporting event that allowed knights to demonstrate and hone their skills. Tournaments also provided an opportunity for knights to build wealth from winnings.
trebuchet
A powerful type of catapult that throws a projectile using a sling attached to a swinging arm. A counterweight is used to swing the arm, giving greater force and speed to the projectiles that are hurled towards the enemy.
trestle table
A table composed of a removable top supported by trestles (A-frame supports with horizontal beams at the top). This type of table could be easily moved around or stored when not needed.
troubadour
A poet and songwriter. Troubadours sometimes performed, but they were primarily seen as composers. They were sometimes from noble families.
Truce of God
Originally a papal edict that was intended to discourage fighting amongst Christians, it also protected Crusaders from attack and allowed them to travel in peace within Christian domains as they made their way to and from the Holy Land.
U, V
vassal
When a man swore loyalty to a noble landowner in return for use of that land (a fief), he became a vassal of the lord. A vassal was expected to provide services to the lord whenever needed. A vassal might be required to go to war and fight for his lord. If the vassal could not go to war, he would have to provide a substitute to fulfill his vassalage. Although it is often thought of in terms of lower ranking men, such as knights, anyone could be a vassal. Henry II was King of England, but he was also Duke of Normandy (and many other noble titles). As Duke of Normandy, Henry paid homage to King Louis VII of France; thus, he was also Louis' vassal. The same was true for King Richard; as Duke of Normandy, he was King Philippe's vassal.
vestry
A small room in a church used for storage of items such as vestments, sacred vessels, and other worship-related supplies and accessories.
W, X, Y, Z
waning
When the illumination of the moon is decreasing; the time between a full moon and a new moon.
ward
A person who has been placed under the control and protection of a guardian. In 12th century England, if the child of a noble family became an orphan, the child automatically became a ward of the king. This would include unmarried daughters, regardless of their age.
waxing
When the illumination of the moon is increasing; the time between a new moon and a full moon.  See diagram above.
wet nurse
A woman who breastfeeds and cares for an infant who is not her biological child.
wheelwright
A craftsman who builds and repairs wooden wheels.
wimple
A medieval headdress worn by women, typically married women. It covered the top of the head and wrapped around the neck and chin.
wound fever
An infection.