"From the devil they came, to the devil they will go." – St. Bernard
Her beauty lured the Count of Anjou, Geoffrey Greymantle, into a hasty marriage, although her origins were unknown.  She rarely attended Mass, was inattentive in church, and most alarmingly, always left before Communion.  When the count ordered some of his men to force her to remain during Communion, she screamed and flew out a window – never to be seen again. She left behind her husband and their son, Fulk Nerr, also known as "Fulk the Black."  Her son's notoriety and violent temper was seen as proof that his mother had surely been a spawn of the devil.
From this legend, the heirs of Count Geoffrey Greymantle (c. 938-987) were seen as a dangerous and ruthless family with a ferocious temper and an unholy ancestry resulting in paranormal talents on the battlefield.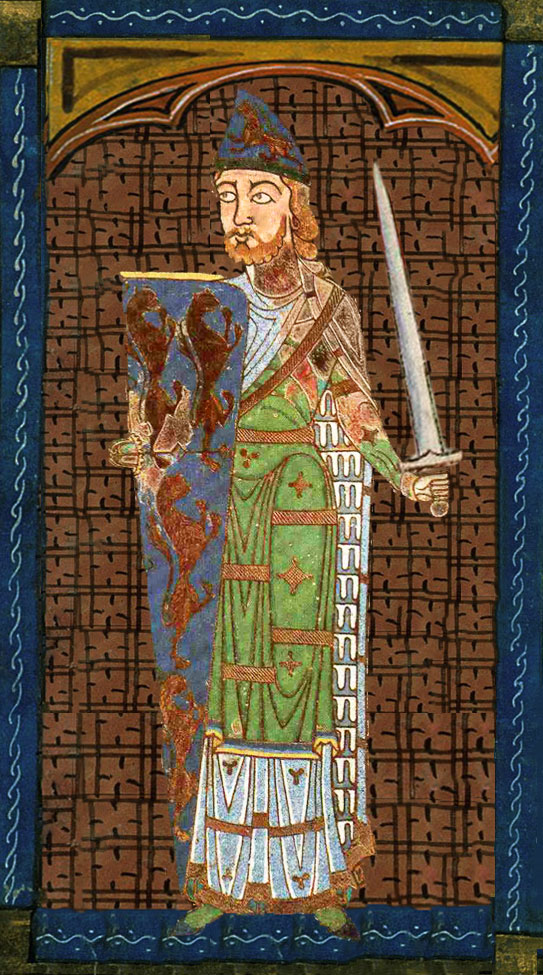 On August 24, 1113, a son was born to this fearsome dynasty.  His name was also Geoffrey, and his descendants would shape the future of both England and France, ruling England for over 300 years.
The story of the Demon Countess of Anjou was quite popular in the 12th century.  Unfortunately, like most legends, the facts were less compelling.  Fulk the Black's mother was actually Adele of Meaux, a French noblewoman.  In truth, the many successes of the Counts of Anjou were what led to rumors and whisperings of demonic blood.
By 1113, there were five great families of France, represented by:  the French king (Capet), the Duke of Normandy, the Duke of Aquitaine, the Count of Blois, and the Count of Anjou.  Of these families, only the Angevin counts had started as relatively minor nobles and had managed to greatly extend their holdings through conquest and fortuitous marriages.  During the Middle Ages, such remarkable success was considered a sign of supernatural interference; thus, the legend of the Demon Countess of Anjou was born.
Geoffrey (1113- 1151) was his father's oldest son and heir.  Little is known of his early years, although contemporary writers described him as tall, handsome, and a ginger (red-headed).  Much has been said of his temper (in keeping with the legend of demon blood), but he was also educated and well-read.  It is said that he loved to read more than to hunt.  His quick mind and fiery temper would be a legacy passed to his descendants.
He was later given the nickname "the Handsome" or "the Fair" (le Bel in French).  However, it is another name associated with Geoffrey that would become immortal:  Plantagenet.  Reputedly this name was given to him due to his habit of wearing a sprig of yellow broom blossoms (in Latin:  planta genista) in his hair.
Because of the prominence of Anjou, Geoffrey would have been an important figure of the 12th century regardless of the events which later made him famous.  But it was the sinking of the White Ship, the need for the widowed daughter of Henry I to have a powerful, capable husband, and the strategic significance of the lands under Angevin control that coalesced into a "perfect storm" of opportunity for Geoffrey's family.
At the age of fifteen, Geoffrey wed the proud, strong-willed, 26 year old Empress Matilda, widowed daughter of Henry I.  Geoffrey was a count married to an empress, joining his family to the most powerful dynasty of the day, as Matilda's grandfather had been William I, King of England and Duke of Normandy.  Through conquest, Geoffrey would eventually become Duke of Normandy himself in 1144.  His marriage to Matilda might have lacked affection, but it produced three healthy sons.  His first son became Henry II, and his descendants ruled England from 1154 to 1485.
On the day of his birth in 1113, Geoffrey was joyously welcomed as the heir to a powerful noble family.  His contemporaries could have never imagined that he would found a dynasty whose lives still fascinate us today, over 900 years later.
---
Barber, Richard W. Henry Plantagenet. Totowa, NJ, Rowman & Littlefield, 1964.
Barber, Richard W. The Devil's Crown: a History of Henry II and his Sons. Conshohocken, PA, Combined Books, 1997.
Jones, Dan. The Plantagenets: the Warrior Kings and Queens who made England. New York, Penguin Books, 2014.
All images are in the public domain. Modification of public domain images by J. C. Plummer.
Text © 2017 J.C. Plummer
Posted on